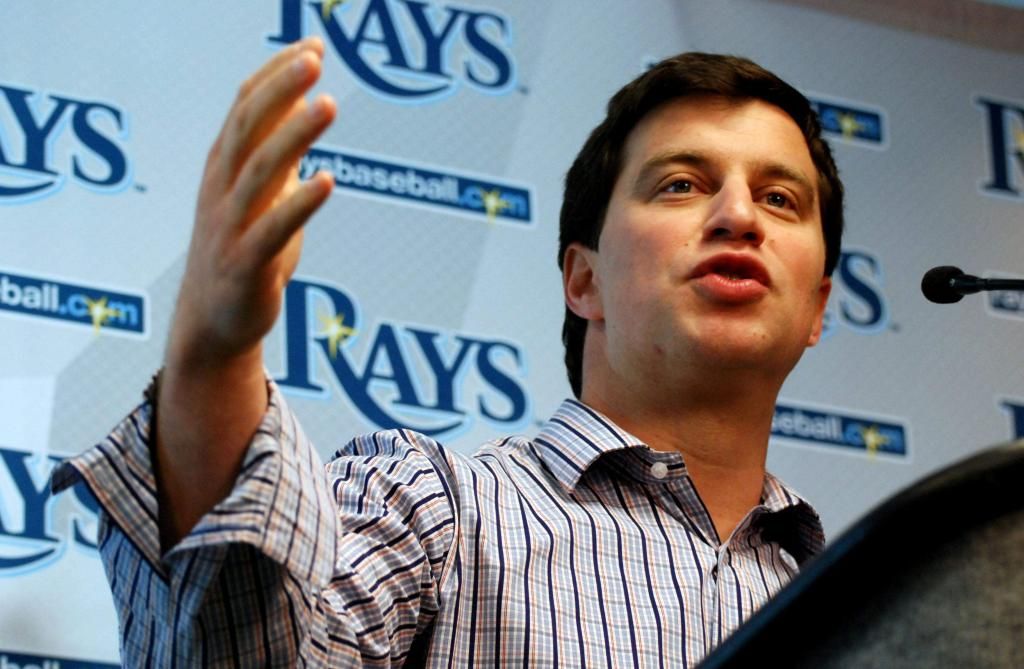 Friedman in 2011.
Courtesy:
TBO.com
If you haven't heard by now, Andrew Friedman has left Tampa Bay for greener pastures in Los Angeles with the Dodgers. With LA obviously being a bigger market, he will have a much larger payroll (around $200M according to Cork Gaines) to play with and no longer be limited.
After such a disappointing season this year, I know that I was looking to Friedman to fix what he could this offseason and make the 2014 campaign an anomaly. Unfortunately, I think it will be the first of many to come.
We all know the Rays have a limited payroll, and we have skated by on that easily for years thanks to "Friedman ball". With Friedman leaving, what real hope do we have that his announced successor, Matt Silverman, will be anywhere near as good at "Friedman ball". Let's face it, one of the biggest reasons the Rays have been so successful the past 7 years is because of the Maddon/Friedman dynamic duo combination. What if Friedman and the other Dodgers decide to fire Mattingly and try to lure Maddon away from Tampa Bay, like Cork Gaines
pointed out
? How will that leave this club?
Maddon recently said he loves working in Tampa Bay. Here's what he said in a
recent interview with the Tampa Tribune
:
"Regarding me, personally, I love it here, you guys know that. It's very hard for me to conceal that, to be here from 2006 and build what we have, it's very exciting. Hopefully, it's going to last many more years ... I've always stated that this is the best place to work in major-league baseball, and I totally believe that to be true.
But will those feelings stop him from leaving? I wish I had this answer to that and this similar question: "Will Maddon leave also?"
The bottom line is this, Andrew is gone. I find his success with such a small payroll extremely hard, but not impossible, to replace. And with Friedman gone, and talks that Don Mattingly might be let go after this year, I fear for the future of the Rays. I hope our future is clear by the Winter Meetings, one way or another. And while there's still hope that this season was an anomaly, that hope just took one of the worst hits it could take. And it could still take another.
So while I don't think this applies so much to executives as much as players, I will leave you with this thought. Maybe it's time to renew the discussions of a salary cap in baseball. Too many smaller market teams can't compete with their big brothers like the Red Sox, Yankees, Dodgers, etc. because they can't flaunt the money like these teams. You can't continually rely on the draft. Our run with that method lasted six years before the farm started to run dry.
If nothing else, this offseason just got a whole lot more interesting for the Rays.
(Editor's note: I realize this article was kinda all over the place. I'm still coming to terms with the shock, so I have a million thoughts a minute running through my head and it shows here in this article.)