If you haven't heard already, last night Michael Pineda of the Yankees proved how much of an idiot he is. Nearly 2 weeks after getting busted by the media for using pine tar on his wrist in a game against the Red Sox. He did it again last night, again against the Red Sox. Only this time, the Red Sox were ready to pounce and pounce they did. It ended with him being ejected for an illegal foreign substance on his neck. (Video)

This morning, ESPN had a poll on their ESPN SportsNation website asking, "Do you have a problem with pitchers who use pine tar to gain a better grip on a baseball?" The poll is pretty solid 56% to 44% opposing use of pine tar. But the fun part is the map. The map that shows how each state voted. Here's that map.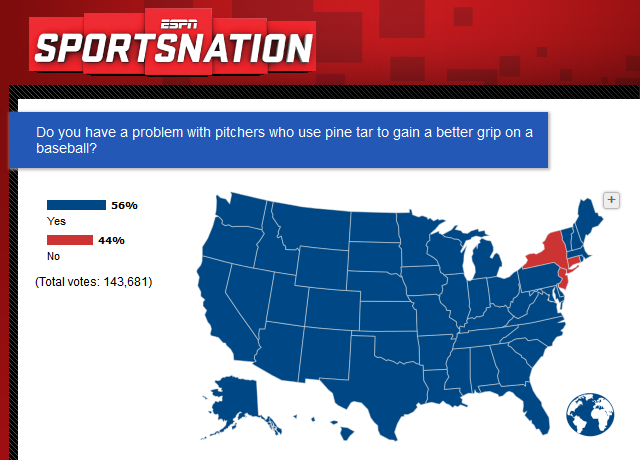 Amazing, but certainly not too surprising. Everyone doesn't want cheating but the Yankees fans.
And before it is mentioned, yes, the Rays
are not innocent
. However, it doesn't mean we, or certainly I, condone it. Oh, and by the way, drop the "
make it legal
" and "everyone is already doing it" schtick. Not having it.
Enjoy your suspension, cheater.