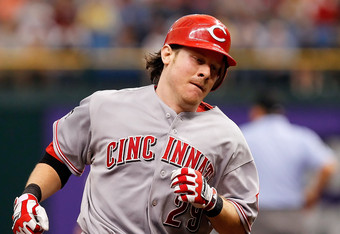 Ryan Hanigan (top) and Heath Bell (bottom)
Courtesy: J. Meric/Getty Images via
BleacherReport.com
(top)
USATODAY.com
(bottom)
[UPDATE, 3:45pm ET]:
Marc Topkin
reports
that Bell's $9 million 2014 salary will be payed by Marlins, D-Backs and Rays. Rays will pay approximately $5 million of it.
[UPDATE, 2:58pm ET]:
Ken Rosenthal
reports
the full details of the trade. Rays get Hanigan, Bell and money; Reds get David Holmberg; D-Backs get Justin Choate and player to be named later.
[UPDATE, 2:48pm ET]:
Ken Rosenthal
reports
the deal involves the Rays also acquiring Heath Bell as well. The deal required approval by the commissioner's office.
[UPDATE, 2:37pm ET]:
Marc Topkin is
reporting
that the Rays have extended Ryan Hannigan for 3-years with an option for a 4th year at "just under $11 million".
[UPDATE, 2:21pm ET]:
Now hearing the Diamondbacks are the third team involved in the 3-team trade. This per John Fay, the Reds beat writer,
on Twitter
. The details are still coming.
[UPDATE, 2:02pm ET]:
Ken Rosenthal is
now reporting
that the Athletics are NOT the third team in the trade.
[ORIGINAL STORY]:
Just coming across on Twitter is that the Rays have traded for catcher
Ryan Hanigan
in a possible 3-team trade involving the Reds and one other unknown team (should there be a third team involved). The trade was first reported by Fox Sports' Ken Rosenthal
on Twitter
.
It's not known yet who the Rays are trading away. Though Marc Topkin
suspects
it could be Jose Lobaton as he hears that Hanigan will be the Rays' primary catcher in 2014.
Stay tuned this is still developing.