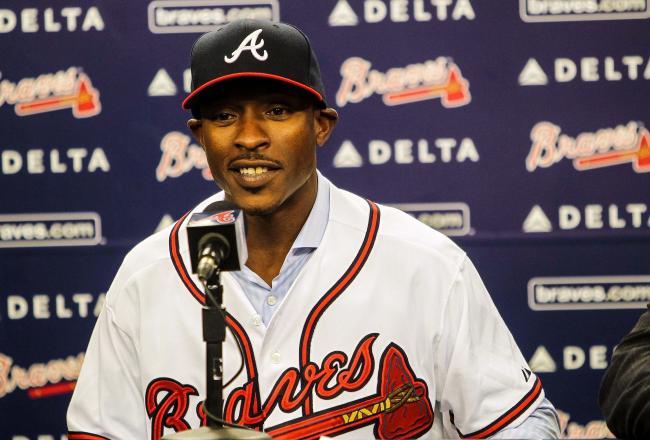 BJ Upton
Courtesy: US PRESSWIRE via
Bleacher Report
BJ Upton called in this morning to MLB Network's morning talk show
Hot Stove
. They talked about various things from Changing uniforms to who's the biggest trash talker between him and his brother Justin (BJ says he is.)
The first interesting point came early in the interview when this was said. (A minor note, most the quotes in this article are paraphrased.)
Greg Amsinger: "BJ Upton, Atlanta Brave. How does that sound?"

BJ Upton: "Very good. ... The Rays played an important part in my career and I enjoyed my time there but sometime you have to move on. Braves were geographically closer to me growing up and I watched them a lot. I still call Tampa [the city] home."
At one point of the interview, Greg Amsinger asked BJ what he's gonna miss most about Tampa Bay. Here's what was said.
Amsinger: "What's the one thing you're gonna miss most about Tampa Bay? I have an answer in my head but I'm not telling you until you give me yours."

BJ: "You know what, we--I don't think there's any team that had more fun than we did. We kept it loose. It was always--no matter win or lose we always had fun. The guys in club house had each others' back no matter what. I grew up there and a lot of those guys are like family, so that's what I'll miss most."

Amsinger: "The answer I had was Joe Maddon and only because he was the ringmaster of the fun, those were his idea's right?"

BJ: "Yep. They were his ideas, y'know Joe is a player's manager. He lets the guys police the clubhouse themselves and we did a pretty good job at it. He started a new culture in Tampa, and he was lot of the reason that we--um--they have gone from worst to first."
Another interesting point from the interview is when Harold Reynold starts talking pitching staff and casually and mundanely points out the starting pitchers in Tampa and that BJ was going to a team with a really good bullpen staff, sounding taken aback when he starts talking Braves' pitching.
BJ was also asked by Harold Reynolds about his heir apparent in Center Field in Tampa Bay, Desmond Jennings. Here's what was said by BJ.
BJ: "Desmond is a great athlete I think he'll be able to handle [the move to center field]. You know, he's good at listening, they have a great a great outfield guy over there, George Hendrick. And he's in some good hands. He got to see [Carl] Crawford play and he's learned a lot."
It sound like BJ is happy to be a Braves player but will sincerely miss Tampa Bay. Good luck, Bossman Junior.