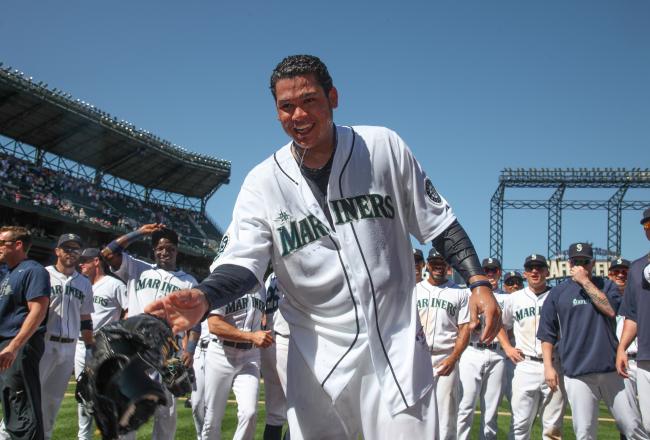 Hernandez is doused with sports drinks
after throwing perfect-o.
Courtesy:Getty Images via
Bleacher Report
I recently made a vow to try and get back to my positive self about the Rays, but there is nothing positive for the Rays about what happened today. Ok, you might be able to get away that Felix is actually a good pitcher but that's about it.
In case you've been under a rock today, which you should count your blessings if you were, "King" Felix Hernandez threw a perfect game in today's 1-0 loss to the Mariners. Seattle is celebrating, the Rays are facepalming. This marks the third time in four years the Rays have been perfect-o'd. Only the Dodgers have as many perfect games against them, however it took 35 years to accumulate those.
No matter how you spin this, this is bad for the Rays. Sure it's only one loss, but it's a humiliating and demoralizing loss. The Rays were set down in order for the 3rd time in 4 years.
I would hate to put this on one person's shoulders but there is one thing the three perfect games and the no hitters against the Rays have in common: they were all under hitting coach Derek Shelton. Yes they're are other pieces in common, like Longo and Pena, but there is no person more directly responsible for the hitting as a team then Derek.
Could this be the final nail in the coffin in his time with the Rays? I doubt it. Despite, as
Steve Carney put it on twitter
, the fans having their pitchforks and torches out for the head of Shelton, I doubt the Rays will fire him. Why? Well because even thought we've seen utter failure at times from the Rays offense, sometimes on long streaks, the Rays have also had great offensive out spurts while under Shelton, such as the recent 7-game winning streak. So I don't think this will end Shelton's time in Tampa Bay.
In the end there is no excusing what happened today. The Rays were set down in order - 27 up, 27 down - for the third time in four years.
Don't get me wrong Felix is a great pitcher, which, as I said somewhat earlier, takes some of the stinging away because he's actually capable of this on any given night in any given start. I would have been happy for him if it had been against any one else. Instead it happens to our Rays in the middle of a playoff push. Nothing more heartbreaking in the regular season.
The important thing to take out of today is despite that it was probably the worst loss of the season, they resume their hot streak in Anaheim. The Rays are still 7-3 in their last 10, and had put up 10+ hits in 5 straight games heading in to Tuesday's game. So the Rays are still kinda hot even though they've been cooled significantly in Seattle. These are the trials a legendary team is made of.
It's not all doom yet in Tampa Bay, they're still plenty to be played. And good teams can overcome this. Can they prove their worth? We'll wait and find out.